Christmas Competition 2020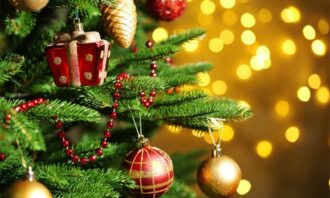 It's been more than a month since Christmas… and we're finally in February! Wow, time flies doesn't it? Thankfully 2020 is now firmly behind us, what a year that was!
Although it seems that Christmas was so long ago and most people have put this magical event to one side, the fun has not yet stopped for us as we still have our Christmas Competition going. This is where we choose between our houses to see which one has the most beautiful Christmas gathering. All submissions are by the occupants – so if you don't submit anything, you have 0 chance of winning.
Like the Olympics, we have the categories: Small House, Medium House and Large House, so plenty of chances to get picked. This year, Santa was very kind as we doubled our winners putting two winners into every category.
The winners get a monetary prize so they can buy nice things for the house like fancy champagne glasses or so. The size of the prize scales with the size of the house!
For the 2020 competition, we had many entrants, so it was quite hard to choose the winners.
So, ready for the winners? *drum roll*
SMALL HOUSE CATEGORY
Montague Gardens, W3
Coldershaw Road, W13
MEDIUM HOUSE CATEGORY
Lavington Road, W13
Creswick Road, W3
LARGE HOUSE CATEGORY
Granville Gardens, W5 (3rd time wining!)
Loveday Road, W13
---
We are so happy to see how well all of the housemates get along. This is really important for us as it's something we strive for in our houses.
If you didn't win this time, don't be discouraged, we will be running the competition again for 2021 Christmas.
One house that stuck out, sent us a video clip professionally edited! The rules of this competition are unwritten, basically just WOW us and most importantly, have fun!
Coldershaw Road, W13
This house is one of my favourite. We all at Kingdom Houses loved this entry for it's awesome decoration (the reindeer antlers are a fun edition) and also because the housemates worked well with the tight living room space.
Montague Gardens, W3
These lovely ladies (and Tom) went to the trouble of not only providing lovely photos. Watch the video, what a pleasant fun time was had decorating the Christmas tree. A fortunate household in that they all spent Christmas together the entire time.
CRESWICK ROAD, W3
What a lovely photo of the housemates and the food looks super tasty. We are loving the family feel and the crazy heart-shaped glasses. I know I speak for all of us here at Kingdom Houses when would have loved to have joined!
Lavington Road, W13
Both such great photos. We love the Christmas jumpers and the reenactment of the three wisemen (we're guessing). It looks like the housemates had lots of fun and we can't help but be a tad jealous we missed this awesome dinner. 🤣🤣
Granville Gardens, W5
It is no surprise that this house is winning again and it's no secret that this is one our favourites. An interesting fact is that multiple staff members have once lived in this house over the years! It is a fantastic space with massive wide-open plan living (photo attached for reference) and it makes for a great home. This year we've seen some long term housemates who we've come to call friends, move on to new adventures which makes it bittersweet to not see them in the Christmas photos this year.
Loveday Road, W13
This house is a new entry this year and they've done a fantastic job. Again the food looks amazing and we love the bonsai tree and the fun energy. So many of flatmates in this photo moved in when we launched it two years ago, and we can see how they are celebrating the Kingdom Houses way by wearing crowns :-).